Paintings Raise Cash for CLAN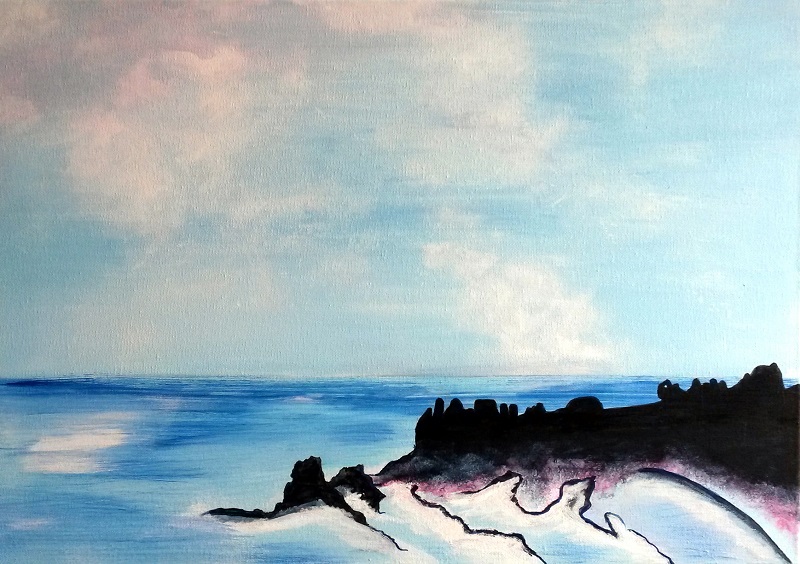 'Nearly There (Dunnottar Castle) - canvas 23" x 16"
Paintings galore were on show in Stonehaven library from 1st September - 19th 2016. It was a once a year chance to view the artwork of Bern Ross in a public space and this year all proceeds were and still are going to CLAN. The artist has started a Just Giving page and already it has donations....
Here's a little glimpse of my work space: finished paintings on the walls and a lovely muddle of materials for creating them. Come with me ...
As a taste for what I do, here's a selection of recently sold work:
Please click on an image to see its correct proportions and details

My studio address is:
6 Westfield Court, Stonehaven, AB39 2JW

North East Scotland | 07789 748361

Welcome to my website.
If you're looking to buy contemporary original paintings by Bern Ross there's a huge choice of original art on my main shop front and outlet, which is here at Modern Art By Post
Whether you're looking for a large seascape or a small seascape, something evocative of Scotland or just something that catches your eye - you'll find plenty of colourful artwork and bright pictures by Bern Ross.
A painting can breathe a window of fresh air into your room and there's no need to know anything about art. Just see what you like from the pictures here in my Stonehaven studio and whatever you choose I can send the painting by post.
See the page about Payments and Delivery in my store for reassurance and be sure to contact me here (or in the store ) if you'd like further info or more photos of a piece before making a decision.
I hope you enjoy looking at all the different things I show you on my site. Thanks for finding me!

Testimonials
"Your work shows energy and a love of colour. I've really enjoyed looking at it" -- studio visitor
"Painting arrived safe and sound. I really love it just what I wanted - fits in perfectly. I will keep a look out on your website." -- Buyer of 'Hill on the Mearns 1'
"Your painting hangs in our lounge opposite the door in the alcove. My young grandson walked in and saw it and said 'Oh WOW!'" -- Recent buyer of a seascape.